5 Simple Reasons You Need to Publish Your Own Print Magazine
1. Showcase your expertise in a newsstand-quality publication
2. Build your credibility by sharing relevant, practical content
3. Connect with your audience in a unique, tangible way
4. Repurpose your existing content

5. Keep in touch on a regular basis
If you aren't publishing a magazine – we need to talk! Contact me today
See samples of our magazine layout and design at The Atalanta Woman 
---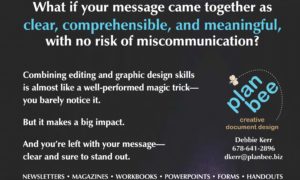 Do you struggle with creating documents? Maybe you've spent hours lining up text in Word, then after making a small change everything shifts around and you can't get it back to how you want it. Or maybe you have a blank page at the end of the document. Why won't it go away? That's probably when you want to give up…but where do you find help?
I'm the Document Diva and it's my passion to combine text and graphics to create eye-catching and engaging documents, mostly in Microsoft Word. And when your documents are appealing and informative, you'll attract more clients.
Isn't it time you updated and polished your documents?
Contact Plan Bee for creative document design for your PowerPoint presentations, marketing collateral, brochures, handouts, and white papers.